Mex, Switzerland, 27 April 2023
Unleashing the next phase in its growth trajectory, Stratex Group in New Zealand has chosen the BOBST EXPERT CI flexo press to ensure ultimate sustainable operation and increased productivity. The company wanted a supplier partner that aligned closely with its focus on circular economy solutions while also delivering on speed and quality.
A regional leader in paper-based and bio-polymer solutions, Stratex serves food producers across Australia and New Zealand with packaging materials, including laminated and coated papers; rollstock for vertical and horizontal form fill seal lines; specialty wraps; and portion control packaging. Key customers include multinational brand owners such as Nestlé, Unilever, PepsiCo, and Fonterra.
The company has a strong focus on the use of paper and other environmentally friendly solutions developed to achieve circular economy outcomes. This approach led the management team to BOBST and the EXPERT CI when it became time to expand its printing capabilities and invest in a new wide web flexo press. In addition to its sustainability demands, Stratex also wanted to accelerate its growth potential and support its customers with a technology that offers world-class productivity levels and exceptional print quality.
"We knew we needed to partner with a machine supplier that shares our green ethos and strategic goals, and our investigations quickly landed us at the door of BOBST," explained Managing Director Brent Devlin. "We wanted a machine that could improve our efficiency, support our growth plans and also align with our focus on environmental solutions. When we learned that the BOBST EXPERT CI had broken the world speed record using water-based inks, we knew we were onto a winner." ​
Materials specialist with advanced capabilities
Originally founded in 1968 as a business unit within New Zealand Forest Products, which in the twentieth century was one of the region's largest industrial companies, Stratex was privatised by a group of New Zealanders in the late 1990s after many years of multinational ownership. In 2012, the business began pivoting away from supplying other packaging converters to providing packaging solutions directly to food manufacturer customers.
Today, the company has an annual turnover of US$ 25 million and employs over 80 staff. The headquarters and factory are situated in Auckland, New Zealand, complemented by sales, logistics and technical support based in Sydney, Australia. Multiple manufacturing, printing and converting processes are carried out at the 10,000 sqm manufacturing facility, which houses several extrusion coating lines and wide web flexo presses, along with slitters, and other specialized machinery.
Stratex is known for leading the market in advanced packaging materials for the dry goods, dairy, confectionery and snack foods industries, and for supporting customers with the technical aspects of food compliance and recyclability. "We utilize cutting edge technologies to design new and customised packaging solutions that meet the stringent demands for many types of food packaging applications," said Mr Devlin. "One of our specialties is coating paper and films with various polymers, including biodegradable coatings. Through our in-house expertise and technical facilities, we are able support customers with detailed analysis to assess the products' recyclability and biodegradability." ​
Future-proofing for higher growth
Such varied and technical materials inevitably test the company's printing equipment to the limit. Now with the new BOBST EXPERT CI flexo press firmly installed on the production floor, Stratex is able to better handle these types of substrates and improve on its environmental footprint with minimum waste and lower energy consumption.
Through the high level of automation in all its processes, the new BOBST flexo press is also able to offer great savings in job setup and changeovers, keeping unwanted downtime to a minimum. Less waste of substrate and consumables coupled with a top printing speed of 500m/min further contribute to the EXPERT CI's highly competitive productivity.
Among the many innovations, the press comes with a high-efficiency Full Surface Matrix (FSM) inter-color dryer that uses lower temperatures to save on energy and enhance register accuracy because the web is being evenly pushed against the CI drum at all times. Furthermore, the machine's connectivity features allow remote access to all production data helping to optimize planning and uptime.
"The new BOBST is our third flexo press, and it sits next to an Italian flexo press commissioned in 2012 and an older wide web machine," said Mr Stuart Wells, General Manager at Stratex . "The reasons we chose the EXPERT CI include the high printing speed and the waste saving features enabled by the advanced registration technology. And the fact that it can run water-based inks and handles paper with ease naturally added to the attractiveness of the proposition." ​
He concluded, "I can safely say that the BOBST EXPERT CI has lived up to our expectations by improving our output and supporting our ongoing growth. Clearly, this press will be central to our future developments as we believe paper-based packaging offers many unique properties that are highly desirable in an environment where recyclability and a circular economy are important trends." ​ ​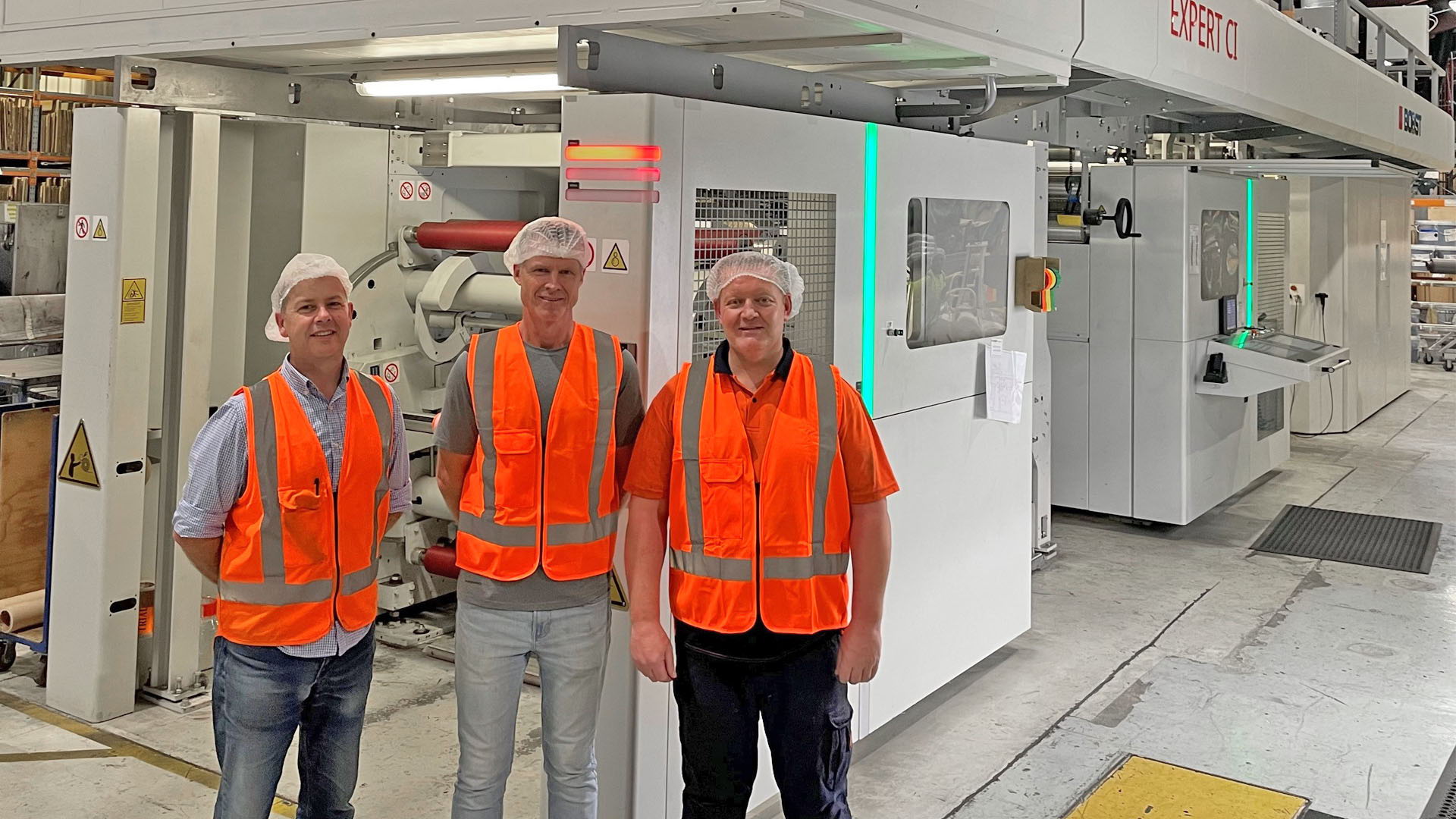 About BOBST
​We are one of the world's leading suppliers of substrate processing, printing and converting equipment and services for the label, flexible packaging, folding carton and corrugated board industries. ​
​Founded in 1890 by Joseph Bobst in Lausanne, Switzerland, BOBST has a presence in more than 50 countries, runs 19 production facilities in 11 countries and employs more than 6 100 people around the world. The firm recorded a consolidated turnover of CHF 1.841 billion for the year ended December 31, 2022.